Book your private live hosted game with your loved ones today!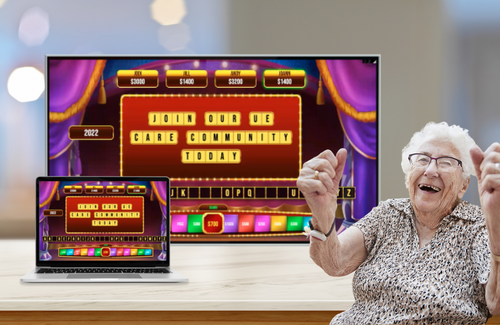 How it works:
Each game is 1 hour. It includes 4-6 rounds of hangman, similar to Wheel of Fortune, custom made for your private event.
Gather up to 12 friends/family members to join as contestants, and additional Unlimited amount of Virtual Audience members.
One friend/family member must be onsite with a laptop or tablet to connect to the private zoom link provided by Utopia Experiences.
Price is $125 for one hour of intergenerational fun for the entire family!
Instructions to Join Your Game:
After booking your game, share the event invitation with friends and family.
Familiarize yourself with setup and login – spoiler, it's easy! Check out this guide, including tips and tricks for successful game play.
Get your friends and family together and join the game using the link and login info provided in your confirmation email.
If you have any questions, you can always reach us at support@utopiaexperiences.net. And we know you're busy, so don't worry, we'll send you another reminder the day before your scheduled game.